Payment Gateway - Online Payment Processing
The fully customizable way to get paid securely. Now you can expand your business to the internet with total security and control. Payflow Pro is the ideal solution for established businesses that want to keep their existing bank relationships but also require peak site performance, direct control over payment functionality, and scalability. Payflow Pro is an industry-leading payment gateway that connects your internet-enabled merchant account to your website, where you can directly accept credit cards, eChecks, and PayPal® with ease and security.
Payflow Pro is:
A payment gateway.
Get an industry-leading payment gateway that establishes a secure connection between your online store and the payment processing network. It is critical for fulfilling orders on your website by authorizing and providing security for credit card payments.
Secure.
Experience robust security that protects transactions with optional tools to help prevent fraudulent activity. Use key antifraud measures like address verification system (AVS) and card security code. Plus, PayPal meets the exacting standards of industry-leading security certifications, including SAS 70, PCI, and SDP for protecting sensitive financial information.
Reliable.
Count on maximum uptime and processing speeds with our high-bandwidth, fault-tolerant service. Feel confident that every transaction will be processed
– even during your busiest times thanks to our robust infrastructure that handles $40 billion USD annually, representing more than 39% of all online commerce in North America.
Flexible.
Enjoy fast, no-hassle integration with most major e-commerce solutions and shopping carts. You can also greatly reduce development time with our flexible API and client software development kit (SDK).
Payflow Pro provides a complete solution for businesses that demand an integrated payment service designed specifically for the internet.
Payflow Pro is the perfect choice for businesses that require peak site performance and direct control over payment functionality. Its flexible application programming interface (API) allows your site to support multiple payment methods, including credit and debit cards, electronic checks, and PayPal.
Payflow Pro features back-end connectivity to leading payment processing networks in the industry. It enables payment processing through the Payflow client software, which gives you complete control of the purchasing experience.
Designed for scalability and reliability, Payflow Pro processes large numbers of transactions simultaneously. It ensures customers are not kept waiting and transactions are not lost during the buying process.
How it works.
The following diagram provides an overview of how Payflow Pro works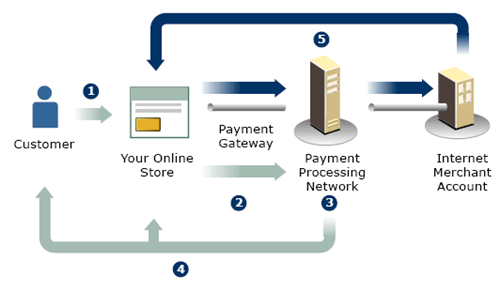 When customers are ready to pay, they enter their payment information and click the payment button on your website.
The payment gateway encrypts data and securely sends it through the payment processing network.
The transaction is reviewed for authorization or decline, and the results are sent back through the Payflow payment gateway.
Your customer receives a confirmation receipt and you fulfill the order.
Once the transaction is processed, funds are transferred from the customer's bank account to your merchant bank account.
After you've set up Payflow Pro,it's easy to manage your account.
Effectively measure and manage your business. PayPal Manager, which comes standard with Payflow Pro, allows you to create monthly reports to keep on top of sales trends.You also get downloadable logs to automate financial settlement and accounting.
Gain total visibility into your business and protect against fraud. From central platform, you can get daily rundown of your business and track transactions.

©2006 PayPal, Inc. All rights reserved. PayPal, Payflow, and the PayPal logo are registered trademarks of PayPal, Inc. Designated trademarks and brands are the property of their respective owners.